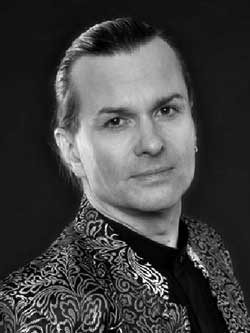 Star sign: Libra
"The Rock Voice himself" has been a familiar name in the Austrian music scene and beyond for many years. The charismatic singer and
musician (guitar, saxophone, clarinet and harmonica) has participated in the Eurovision Song Contest several times. Most recently he
accompanied Manual Ortega in 2002 and Tie Break in 2004.
He has been involved in numerous musical tour productions, including activities with the United Stages of Vienna (VBW) such as "Rockin' Musical" or "A Tribute To ABBA."
Andy Freund has also served as a background singer for the Austrian national TV production "Dancing Star" and has been active as a singer, composer and lyricist in live and studio productions for such acts as Brunner & Brunner, Vico Toriani, Udo Jürgens, Gary Lux, Carl Peyer, Simone, Die Hektiker, Falco, City Cops, Sandra Pires, WWF, Commander and V.S.O.P., as well as for Starmania finalist and current chart-topper Christina Stürmer ("Freier Fall" album).
In addition to his involvement in Groove 2 Move (musical director: Gerald Gratzer), Andy is
also currently on tour with the glam rock show band "The real Stardust Babies" and the Abba Show "THE REAL ABBA tribute." (www.andyfreund.com)
Download: Bio Andy Freund als Björn (Word-DOC, 119 KB)